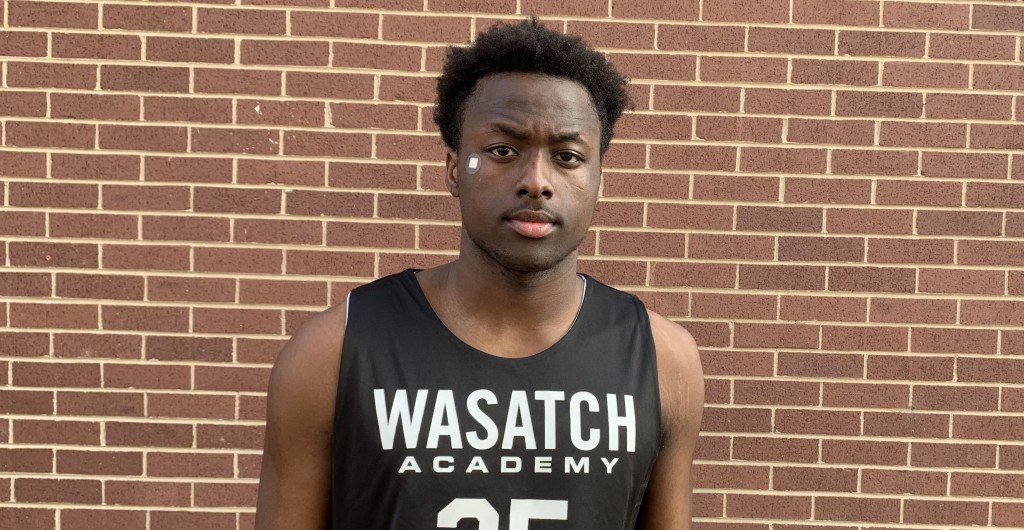 AMERICAN FORK, UTAH - There were a number of players in the Great Western Classic field who are already committed to a program. Let's take a look at some of those players and how they did at the event. 
Seeing Robbie Armbrester back in action was a good thing. The long time HoopSeen stud from Atlanta is now out West at Wasatch Academy in Utah. He recently gave a commitment to Houston - a perfect pairing for his talent. The former Therrell forward did what he always does - he brought the energy and toughness to the court. For Wasatch, they will need his non-stop motor this season. Armbrester plays above the rim and attacks with zeal.  Looking down the road, Houston lives off of energy-givers like Armbrester. What a perfect fit for the Cougars. Armbrester is built for that kind of life. 
Like so many players here on the West Coast, this is my first chance to see Collins play. Good first impression. I've never had a chance to pull up a court side chair and see him in action. Suffice it to say, he made quite the first impression. There weren't too many players in the field that were more athletic than Collins. I'd guess there aren't too many players nationally that posses the bunnies Collins has and plays with. Collins mixes athleticism and pace incredibly well. Juwan Howard is building his Michigan program into a nationally-recruiting powerhouse. With a guy like Collins on board, I wouldn't be surprised to see more attempt to dip into the Western powerhouses and land more talent down the road.
Back in the day when I was over at rivals.com we had an absolute prospect crush on Jovan Adams from Houston. He ended up at UNLV. One of the reasons why we liked him so much was his undeniable swagger. Collins reminded me of Adams in that same accord. Paired against Wasatch Academy in a back gym and in a game with a lot of talent in the backcourt, Collins wanted to battle every possession. I loved the fire and competitive drive. For UNLV, having a local guy from a local, but national, powerhouse is huge. That fire will serve him well in competitive conference action for the Rebels.
Utah State recently picked up a commitment from the Cedar City big man and the Aggies scored a player who should be a focal point once he comes home from his church mission. Grant came up big in the second half of the game against Southern California Academy in the morning. His JM Elite squad was down early and it looked like the SoCal squad was ready to get the game into their full control. But Grant and his mates turned up the intensity. In the end, it was Grant's and-one score in the final seconds that proved to be the game-winner. Big time comeback. Grant played a big role in that. 
The future Kentucky guard is getting his feet under him with his new squad. Playing in their first competitive action of the year at the Great Western Classic, you got the sense that everyone on the roster was still trying to find their respective role on the team. That will come with more reps, especially against the talent that Wasatch Academy played. Hickman and company played a Prolific Select team and Bishop Gorman from Las Vegas. Hickman is a poised point guard with a great feel. He and 2022 PG Pop Pop Isaac make up one of the best backcourts in the country at the prep level. They should help each other sharpen their own respective saws.
Will McClendon fits the way Mick Cronin likes to play and should be a guy who plugs and plays right away within the team structure. He's an aggressive guard who challenges the opposition with his toughness and imposes his defensive will on the scores in front of him. McClendon was good from three on a number of instances, where he rose up and knocked down jumpers from beyond the arc. Overall, it's easy to see why Bruins fans are excited about what's coming to Westwood. In fact, you could argue that McClendon is one of the five best fit commitments there is in the class of 2021 on the West Coast and perhaps even nationally. He's like a glove for the Bruins.
The recent Utah Valley commitment should prove to be a good player in Mark Madsen's rotation once the big man enrolls at the Orem, Utah school. His value as a paint producer is there. Potter plays with a toughness that is transferrable and he's active around the cup. Every program needs a producing paint man. Potter is that guy. He picked UVU over offers from Nebraska and San Diego. Madsen and staff should do good things with the in-state score down the road.
He drilled three three-pointers right away for JM Elite and made it difficult for the opposition to guard him as they opened up the action against a big and talented Southern California Academy, a team rich with their own talent. "Will he try and burn us from three? Or will he drive to the iron and try and score at the bucket?" The future Cougar posed problems and had the opposition asking those types of internal questions. Wahlin was great in the open floor, showing that he's a good passer in transition. As you think about what he can become after a two-year church mission, you can see why the Cougars were smart to secure the local Prove prospect. 
Thomas was one of the most impressive eye-catchers in the event for me. He's a big, physical guard who uses his strengths on both sides of the floor. There is a power to him that you don't see too often from high school guards anymore. His physicality should help him see the floor early and often at the college level. Thomas showed that he can drill the long ball all the while shine as a hard-driving guard. His game was built for the college level. 
Fresh off a commitment to Nevada, Weaver played at a level that makes you quickly understand why the Wolfpack went after his commitment. Guys like Weaver make a program like Nevada sustain success. He will play a long time there and give good minutes in their rotation. We saw value as a rim-attacker, defender and someone who wanted to turn up the intensity in the rotation.