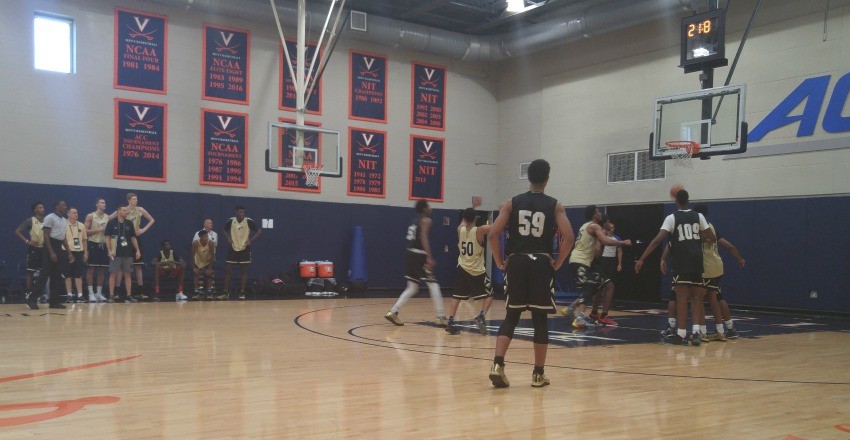 It was a full day of action at the NBPA Camp in Charlottesville, Virginia. Some of the very best rising seniors, juniors, and sophomores went at it in formatted, NBA-style games that led to a few enticing matchups. We expected a star performances from the elite that are here but it was a few others that stepped up their own games and displayed versatility, play making skills, and toughness on the floor at the John Paul Jones Arena. We take a look at 10 standouts from the day that was.
CHARLES BASSEY, PF, NIKE TEAM TEXAS, 2019: Charles Bassey major intrigue and production to the floor in Virginia as the long and mobile freshman forward was super productive in the paint. While he didn't get the chance to show off much of his overall skillset, the active big man was a vacuum on the glass and exhibited great touch and finishing abilities in the lane. I saw a 12 points and five rebounds affair out of him by attempting just five shots, displaying his willingness to produce even when he's not getting the ball as much as he might have liked.
SCHOOL LIST: Just beginning but Kansas became the first to offer earlier this spring
EVAN BATTEY, PF, DREAM VISION, 2017: While he might not look the part of a premier recruit and does need to lose some of the excess weight, Evan Battey was tremendous all day long. The 6-foot-7 forward isn't the most athletic or explosive of guys around but he does produce. Gifted with super soft hands, nimble feet around the basket, and an impressive perimeter jumper game, there are some shades of Villanova forward Kris Jenkins to the west coast recruit. In my lone viewing of the Dream Vision rising senior, Battey went for 19 points and 11 rebounds off of three made 3-point jumpers.
SCHOOL LIST: Nevada, Utah State, Loyola Marymount, San Diego, Fresno State
LAVAR BATTS, PG, TEAM CP3, 2017: People are going to keep hammering home the fact that they struggle with Lavar Batts' ability to make the open jump shot. Sure, the outside jumper remains a work in progress but the Carolina native does have the elite speed levels, consistent effort, and the heart the size of the state of North Carolina that makes him super valuable at the lead guard spot. There isn't a game that Batts doesn't bring it and while his final box score numbers might not always be the greatest, it is hard to fault a high character kid like the CP3 star due to how hard he plays and on either end of the floor. Whoever gets the Carolina native may have found one of the better steals from the 2017 class, a group that isn't too known for its crop of lead guards.
SCHOOL LIST: VCU, Clemson, Oklahoma, Florida State, Tennessee, Georgia
VERNON CAREY, PF, NIKE TEAM FLORIDA, 2019: We here at HoopSeen have been all on board the Vernon Carey bandwagon and on Thursday, it got a bit more crowded as the 2019 stud played with a lot more urgency and passion than in prior viewings. The 6-foot-9 power forward has the body to develop along with a good looking face-up shot that he can hit on out to beyond the arc. Against prospects a year or two older than him, the five-star forward didn't back down an ounce as he finished with 13 points off of just nine shots taken from the floor. He is a premier recruit in the 2019 class and will be ranked as such during our inaugural 2019 HoopSeen Rankings.
SCHOOL LIST: Miami, St. Louis, Florida, Baylor, and a slew of others interested
JAIRUS HAMILTON, SF, TEAM LOADED NC, 2018: In watching Harrison Barnes struggle through these NBA Finals, it is still pretty evident to see the comparisons that can be made between the former UNC star and a North Carolina native, Jairus Hamilton. Showcasing impeccable size at the small forward spot, the rising junior had it going in his first half of his second session on Thursday as he hit on an outside jumper, got to and scored through the contact at the basket, and even play maked some for his teammates near the lane. A total package prospect that has continued to rework his game and skillset, there aren't many better 'now' recruits, or better 'down the road guys' in the 2018 class nationally.
SCHOOLS INVOLVED: UNC, Baylor, Maryland, WVU, NC State, Miami, Texas A&M, Tennessee, Wake Forest
JAYLEN HANDS, PG, COMPTON MAGIC, 2017: If you're looking for speed and quickness, Jaylen Hands has it. While a prospect can see limited coverage once he commits to a college program, Hands' style of play makes you want to see the future UCLA Bruin each time he suits up. An elite speed demon who loves to attack the gaps of the opposing defense, the California native gets to the basket at will but has become much better at making the proper pitch out from off of the dribble-drive. He still is a bit of a high risk, high reward type of guy but he does compete and in his first session, went for a cool 10 points, seven assists, and four rebounds stat line while making five of his seven shots from the field.
SCHOOL LIST: Committed to UCLA
KELDON JOHNSON, SF, BOO WILLIAMS, 2018: He gets out of bed and gives you 20 points. That is Keldon Johnson's mantra and he did just that in Charlottesville on Thursday as the 6-foot-5 rising junior has become a lot tougher and more aggressive within the past few months and because of it, has seen his production go through the roof. While he isn't a tremendous athlete and needs to hone in on his outside jumper, whenever he wants to get to the basket, the Park View High star does just that. Finishing through contact is the name of the game for the Virginia native and in his two outings at JPJ Arena, Johnson averaged over 12 points while making over half of his shots from the field; he is an elite target and recruit within the 2018 class.
SCHOOL LIST: Virginia, Florida, Texas, Georgetown, Penn State, Virginia Tech, ODU
EJIKE OBINNA, C, UNCOMMON BULLS, 2017: The only site to have Ejike Obinna within its top-100 rankings, the 6-foot-9 big man made us look pretty damn smart once again as he went to the glass and brought down everything within reach. While he still needs to polish his skillset and lacks a left hand around the basket, 10 rebounds in 23 minutes of action is pretty solid. Throw in his activity in changing shots in the lane and soft hands and touch on his go-to righty hook over his left shoulder and the Uncommon Bulls star has the looks of one of the more productive big men on the east coast.
SCHOOL LIST: Georgetown, Pitt, Virginia Tech, Providence, TCU, Texas A&M, Florida, Penn State, Miami, St. Joe's, Rhode Island, Cincinnati
COURTNEY RAMEY, PG, TEAM RAMEY-JETS UNITED, 2018: Courtney Ramey, now fully healthy and back on the hardwood, showed completed control and a solid demeanor in the backcourt running his squad all game long. The long bodied rising junior has an uncanny feel for things along with composure to him that makes it impossible to be sped up. While he didn't hit on many of his shots, Ramey is a well-known shooter of the ball. Regardless, the 6-foot-2 floor general ran his team like a mature vet as he made all of the right reads and passes, valued the basketball, and knew the time and place as to when to speed things up and when to slow things down. A five points, seven rebounds, three assists, and four steals outing doesn't do Ramey justice for how valuable he was and is to his squad.
SCHOOL LIST: Illinois, Missouri, Creighton, Iowa, Kansas State
JORDAN USHER, SF, ATLANTA CELTICS, 2017: What made have been the star of the day, Jordan Usher was tremendous as the play making and hard-nosed forward got to the basket and scored through contact, hit on several jumpers out to the 3-point line and from the off OF the bounce variety, and was a nuisance on the glass. He made a few nice plays in advancing the ball up the floor off of the defensive rebound snatch and is a fine stat box score. A 14 points, five rebounds, four assists, and three steals outing is pretty impressive in a camp environment, to go along with the fact that the Peach State recruit missed just one shot from the field.
SCHOOL LIST: Mississippi State, Texas, Ole Miss, Yale, Kansas State, Nebraska, Arizona State