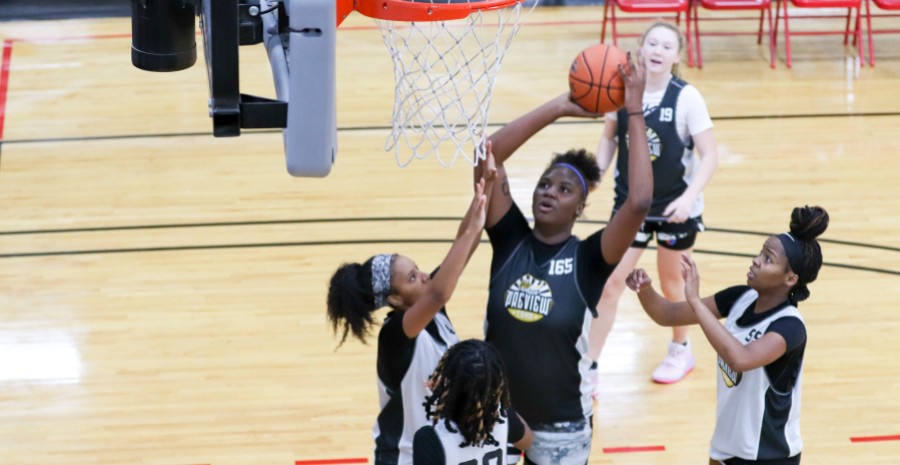 Our first HoopSeenW camp was incredible. We were able to get eyes on a number of talented girls and watch them go through high level drills and play three games of 5-on-5. Here is a breakdown of team 2.
Sydni Arnold: Arnold was named an overall top performer. Read more about her here.
Nautica Boone: Boone was another player that was a blur on the court. The 5-foot-6 guard takes little time to get up the floor, navigating her way through the holes of the defense to penetrate the paint. Once she gets into the paint, you can expect her to finish more often than not. She can finish with both hands in a variety of ways whether it is a straight on lay up, euro step, reverse, or some other counter move. Her effort on the offensive boards also stands out, especially as a smaller guard.
Tori Crowder: Crowder turned heads as soon as she walked through the doors off of sheer size alone. Standing tall at 6-foot-5, Crowder has a strong, physical frame. As you can likely imagine, she dominated the boards and had a lot of success on the low block against smaller defenders. She has a soft touch around the rim, resulting in a lot of easy points. Crowder is also a good passer out of the post. As soon as a double team came to her, she quickly scanned the floor and got the ball out to an open shooter.
Dana Davis: Davis showed that she has a high IQ, especially on the defensive end. She understands how to jump the passing lanes and read screens to fight through them. She got a number of steals where the ball handler did not even see her before she jumped in the lane. Offensively, she runs the floor and gets rewarded with easy lay ups in transition.
Amira Walters-Smith: Her coach called her the fastest player at the camp which is no small feat considering the amount of speedy players in attendance. With her speed, she constantly attacked the basket, typically getting past the first line of defense with ease. As she continues to improve her outside shooting, she will become a tough matchup. 
Olivia Vandergriff: Vandergriff was named an overall top performer. Read more about her here.
Jasmine Williams: Williams was one of the top defenders at the camp. She was able to be a disruptor with both her on and off ball defense. On the ball, she has quick feet and active hands. She is one of those pesky defenders that does not like to give the ball handler much space. Off the ball she understands help side defense and has good anticipation.
Zaria Wilson: Wilson has the potential to be a really good shooter. She showed that she is comfortable taking shots from different spots on the court, even if she doesn't have much space. Once she gets a tighter handle, she can be scary to defend.